Description
College football and Notre Dame go together like peanut butter and jelly. There is no denying the history in this relationship is strong. Some call it loyalty, others a religion, but at its roots, it's all about tradition.
The game day experience is unlike any other. Pre-game rituals are taken very seriously as fans of the blue and gold band together to support the team they love. Stepping into the stadium you'll feel a rush of energy and understand why this game is so beloved and celebrated.
---
Ready for game day? Triangle Tours has created the ultimate college football experience package for you.
Highlights
You will be traveling in style in our luxury executive day coach. The features and amenities on this bus will far surpass any other bus tour you have been on! Let's take a look at some of our favorite features:
22 Luxury Seats: plush chairs, sofas and booths await you
4 Flat Screen TV's with DirecTV & DVD player
2 Refrigerators & Freezers
Microwave & Keurig Coffee Machine
Onboard Restroom
Tailgating essentials: Chairs, tent and grill are onboard, and…
**drumroll**
ONBOARD GENERATOR: This means that the bus is fully functional during the tailgate! A/C is blasting and restrooms are working. Additionally, you can watch the college pre-game and earlier games prior to the main event!
---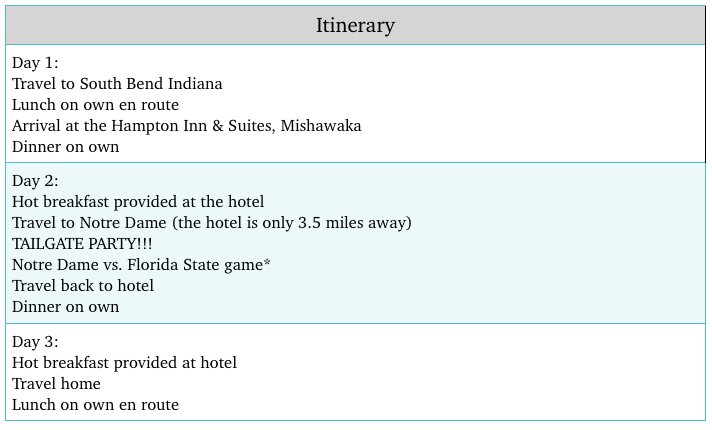 *Rates from* $995.00 based on double occupancy
**Exclusions: some meals, all alcoholic beverages & all game tickets
A variety of restaurants are located within walking distance of both hotels
---
Cancellation Policy:
Cancellations received 35 days prior to tour start date will receive a full refund. Cancellations received after 35 days are non-refundable. Unused tours and features are non-refundable.
---
Disclaimer: Triangle Tours and its associated offeres are in no way affiliated with the University of Notre Dame. We are a private business offering transportation, food and beverages. Triangle Tours is not endorsed or sponsored by the university in any manner.